Setting 3D Models Visualization Quality
How to handle display settings to get satisfying results.
Starting from NX 9, default display settings has been changed. When you start using out-of-the-box installation of NX, you might be surprised, that facets sizes on models are not updating while you zoom-in or zoom-out the view.
Options responsible for this, are now saved together with your part file.
You can change those display settings in your part file, using: Menu / Preferences / Visualization / Faceting tab: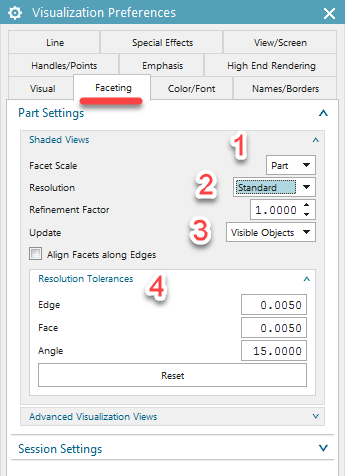 To keep things simple, I want to focus only on a few options:
Facet Scale. My suggestion is to set it to View. This way resolution tolerance will be adjusted also when you zoom-in / zoom-out your view.
Resolution. You should consider your workstation parameters while selecting this option. If you will choose Extra Fine or even Ultra Fine setting, you should expect high quality display, but at the same time memory consumption will increase and general display performance will be reduced. On my mobile workstation, which has pretty good hardware parameters, I usually use Extra Fine setting, and I haven't experienced any noticeable performance drop.
Update. With this option you can choose if updated should be only objects which are currently visible or all objects. This option applies to situations where you have large parts, with many objects.
Resolution Tolerances. Notice that those parameters changes when you switch Resolution setting. If none of choices in Resolution satisfies you, you can fine tune it here.
Choosing Default Settings
As I mentioned on the beginning, those settings are stored together with part file. It means, even if you change Faceting Settings in Customer Defaults, all parts which you already created will keep their original Faceting Settings. Other words, in case of those settings Customer Defaults applies only to newly created parts.
In Customer Defaults you can find this settings here:

There is one more condition:
Faceting Settings will be applied from Customer Defaults, if you choose Blank template while creating new part: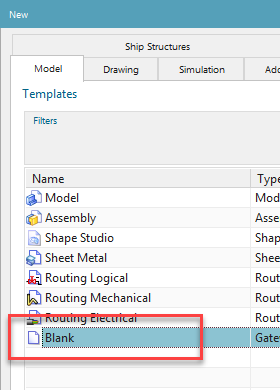 If you will choose other template, Faceting Settings will be taken from template's seed file.